WEBSITE: SWAGBUCKS.COM
RATING: 4/10 

WOULD I USE THIS PRODUCT?: NO 

I hear that a lot. The question so many people ask. Is the Swagbucks a scam or legit? Well no, it's not technically a scam, it works. And by the way, its not THE Swagbucks. It's just Swagbucks. Not sure why some people refer to it as THE swagbucks. I just thought I'd let you know that. The question now is, why did I write it as THE swagbucks??
But there's a bigger question I'm guessing that you're seeking an answer for. How WELL does it work? I encourage you to read this post all the way through, and give it some thought, before deciding if this is right for you. Let's first quickly cover what Swagbucks is, before we get into if it works, how well, and if it's worth investing your time with.
Swagbucks is, in simple terms, a site where you can go and use their search engine, play games, take polls/surveys and then get swag bucks, which can then be turned in for Amazon gift cards along with other types of gift cards. They used to offer cash as well, but I can't confirm that at the time of this writing. But that's basically what Swagbucks is and does.

Is The Swagbucks a scam or legit?
So, to your question. Is Swagbucks a scam or a money maker? No, its not really a scam. You definitely earn Swag bucks towards your Amazon gift cards (and other cards). If you're the type of person who will use the site Swagbucks here and there throughout the day for searching the internet, and maybe playing a game or taking a survey, or watching TV/Movie clips, you can earn a $5 – $10 Amazon gift card in about a month. That's not too bad I suppose. You're just doing what you would do anyway. Why not earn some Amazon bucks for it? There are many ways to earn swag bucks, but I'm just touching on a few here, to give you an idea. And I'm not sure I'm sold.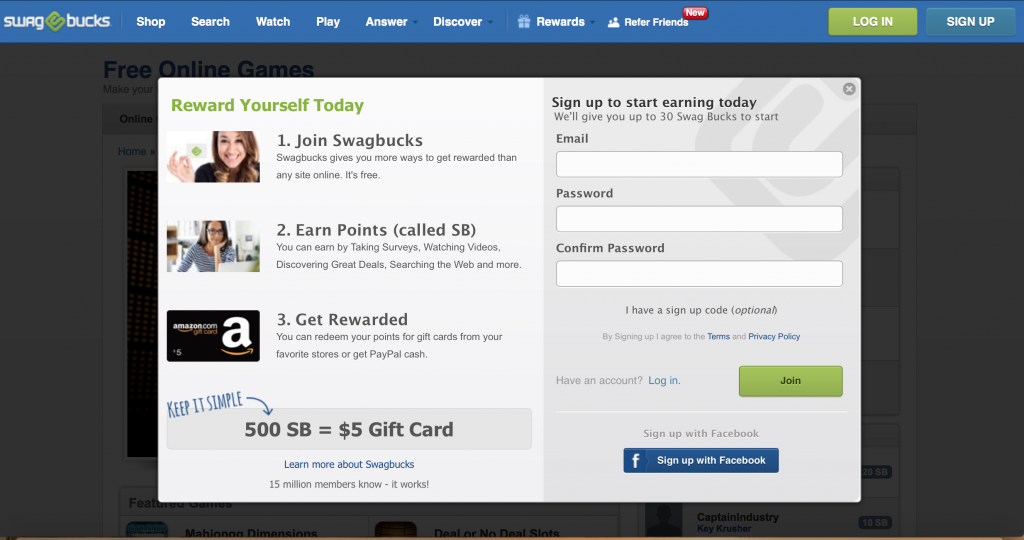 I keep referring to Amazon gift card because I think it's the best deal at Swagbucks. Amazon offers EVERYTHING under the sun, and also the $5 and $10 cards use less points as apposed to the higher denomination cards. So the $5 and $10 are your best deal. I'm not sure if you can still get cash from Swagbucks. There was a time you could cash in your swagbucks for cash instead of gift cards. That may not apply anymore as they have changed a few things around. But if it's something you're interested in, you could easily find out.
(Always do research first, as swagbucks may change their policy without me knowing and updating this article).
When you first visit Swagbucks, it could seem a bit overwhelming. There's a lot to take in. But what Swagbucks does that other online "survey" sites don't, is make it very easy to navigate. So in not much time, you'l figure out what's what pretty easily.
 I think the main – or maybe easiest thing to use and start with, is the Swagbucks search tool. It's actually Yahoo, who's run by Bing. I use Bing on occasion, and to be honest with you, I don't see a big difference between Bing or Google. Maybe you will, if you're really into using Google. The only reason I use Google more regularly, is because it's what I started with. But give it a try. You'll get swag bucks, simply for searching. Something most of us do on a daily basis. You'll still need to do a lot of searches in order to see some real results, but it is possible over the course of time.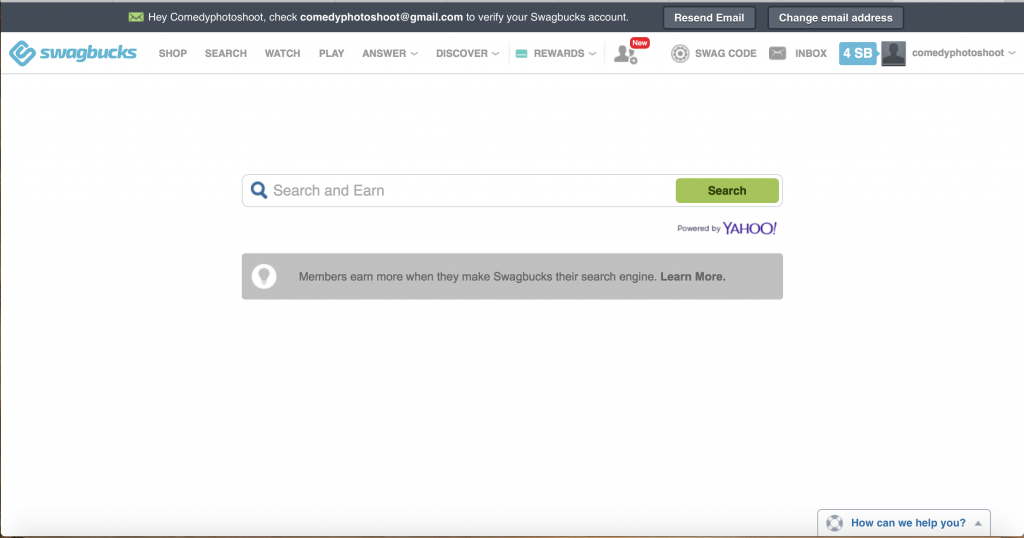 OK, so lets look at the games real quick. I have to say, I played a few and a couple of them were kind of fun. There were also a couple that weren't so fun. But jump in, there's bound to be a few you'd like as well. With that said, you don't always earn bucks when you play the free games. But if you do earn bucks, you could earn quite a bit. I've gotten anywhere between $1 and $3 swagbucks after playing.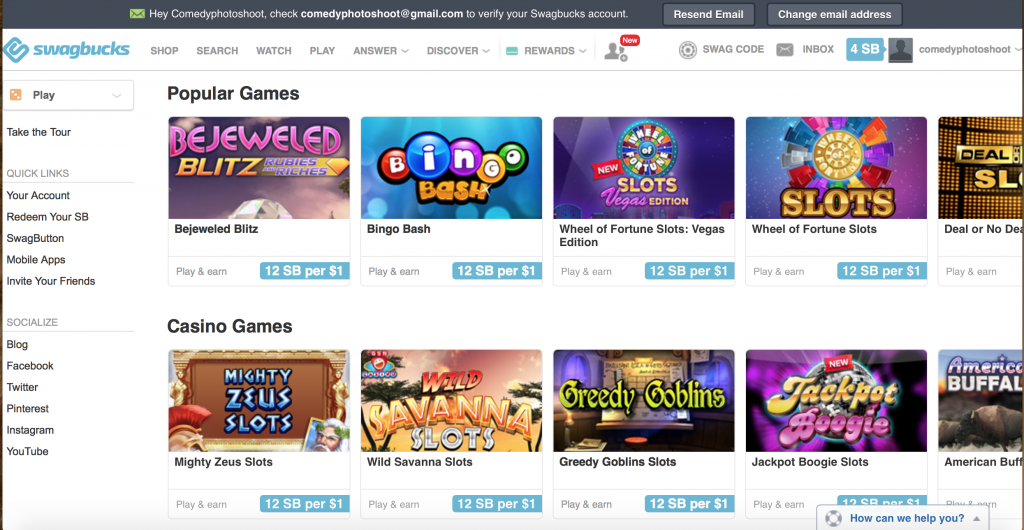 If you really want to rack up some serious bucks, you can play games by using your swag bucks. But make sure you're good at the game. High scores will get you big bucks, like $20 bucks! But be warned, if you don't make it in the high score rankings, you lose those swagbucks you used to play the game.
Lets Look at Polls & Surveys, quickly. They have a daily poll. You get to take one poll a day and they "pay" you $1 swag buck. As of this writing, a $5 Amazon card will cost you 500 swag bucks. There are 365 days in a year. In other words, it will take you over a year to get a $5 Amazon gift card, if all you did was take a poll once a day.
Surveys with swagbucks is crazy to me. I mean, I don't know how anyone even has patience to take surveys to begin with. But to do this with swagbucks, it's even more annoying just trying to TAKE a survey. You'll need to answer a number of questions to see if you qualify for the survey. After that, they'll show you all the surveys which you qualify for, but 9 out of 10 of them will be unavailable. Just seems like an awful waste of time to me.
I don't know. Is swagbucks a scam? No, it isn't. Can  you make a living using swagbucks? Not even close. If I'm to be honest, I think it would take a lot more of your time and energy trying to redeem $5 than it's actually worth. I suppose if you have the type of job where you can play on the computer all day without your boss catching you, then by all means, search away.
But for me, I just don't see my time being used that way. There are other legitimate ways to make money online, which I use, and the payoff is WAY higher. I was able to create an online BUSINESS (swagbucks is NOT a business) that made more money in it's FIRST month, than 8 months worth of using Swagbucks. That's no lie. And with my online business, I was able to create it, working just a couple hours a few days a week. You would need to use swagbucks for THOUSANDS of hours each month for the same return.
When I first started, I had NO IDEA what I was doing. I never created a website, let alone tried to build an online business. But I was able to find some really amazing training that showed me how to do it, using very easy steps along the way.
This is why I find swagbucks a waste of time. I got my online business up and running within a week. Why would I want to waste months and years on swagbucks earning pennies at a time? Why not put my energy into something that will make money for me while I'm not even there. Not just while sitting for hours, staring at a stupid computer screen? That's the beauty of an online business. You don't need to be there in order for it to continually make you money. Maybe if I didn't know any better.
If you're someone who is interested in making REAL money and not pennies, take a look at what Wealthy Affiliate has to offer, in comparison to swagbucks. Then you'll see why I went to them instead, and started my online journey to success.