Hi, my name is Stephen. And without even knowing you,
I'm going to guess we're a lot like each other.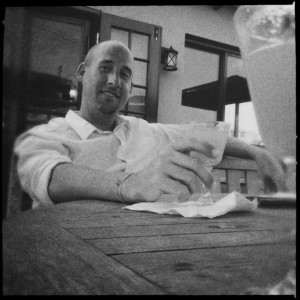 Or at least when it comes to an online business. How do I know this? For starters, you're reading my "about me" page. If you've gotten this far, I must of struck a cord with you on some level.
If you look around my site, you may notice that I don't have pictures of fancy cars, parked in my fancy circular driveway, in front of my fancy mansion, surrounded by fancy women while sitting on piles of fancy money. OK, you get my fancy point.
For me, making money online wasn't so much about the "fancy." I mean, I definitely wanted some more money, for sure. I'd be a liar if I said I didn't. But more importantly for me, it was more about my time. Or back then, the lack of it. Ya see, big houses, fancy cars…. that's all good, but what's really important to me, is my time.
I wanted to be able to go on vacation on a last minute whim. Just pick up and go. I wanted to have my days to spend writing in the park, or sitting in my pj's on my couch. I wanted time to be able to spend with those a little less fortunate than me. Donate my time to charity. I wanted more time with my wife, family and friends. 
I wanted time to do all the things I couldn't because I was too busy using my time to make money for someone else, while I got scraps compared to the amount of time and effort I put in. It just doesn't make any sense to me.
To me, the notion of us being born, and then within the first 4 or 5 years of our life, immediately being thrown into a school, and made to work. Math, Reading, Science, Writing… and then you got home and were forced to do MORE work on homework, as if the 8 hours in school wasn't enough!  And then you continue that work another 12, 16, or more years in education. Then when you finish school, you go straight off looking for a job, so you can have MORE WORK. And that job consumes a minimum of 8 or more hours of your days. Day in and day out, for the majority of your life. You're basically working from the age of 4 to 65. That's 61 continuous years of doing work for other people. That's 61 years of lost time you could have instead, spent on yourself, but now can never get back. 
That's.         Friggin'.         Crazy.
Seriously people. Are you kidding me? THIS is how we should live our "free" lives? THIS is why we were born on this earth?? To work all day, everyday??  What??  Give me a break!
Literally…. give me a break, I'm tired of all the friggin' work!
Look, I'm a pretty simple guy. I mean I do have moments where I enjoy to be spoiled.
One of those times is my yearly visit to Bermuda. Man, I love it there so much. I have my next trip to Bermuda coming up in August. I can't wait! I think next year I'm going to start going twice a year! I just can't get enough of that island 🙂
Oops, I got off track…l say how simple a guy i was :/
Other than my trips, I really am a pretty simple guy. I don't have a mansion or drive a Bentley. What I wanted out of internet marketing was time. But you need money to gain time, so it was a catch 22. Although a good catch 22. I could gain both time AND money! No more 9-5. No more answering to someone else's schedule. Being able to travel with my wife, on my time, without worrying if we had the money to do it. Or having to worry we won't get paid for time off.
My search for "online riches" lasted on and off for about 10 years. I wanted to sit on a beach in Bermuda, while I had residual income coming in each month, paying for my laid back, relaxing lifestyle. I knew internet marketing was the answer. The problem was, I didn't know how it worked. I thought I had enough information to get me going, and I'd figure it out as I went along. But I was completely wrong and left alone, with no one to help show me the way.
I got caught up buying useless "get rich quick" scams, losing both time and money.
Are you like me? On a website looking at a "Work from home" opportunity that you know for sure can't be as good as it sounds? But still, your finger hovers over the "Buy Now" button, going back and forth, should you, shouldn't you. Only to give in and click because you're so desperate, you actually believe "THIS $99 investment is going to be the one that works." 
Crap – I feel your pain. Just remembering those times gives me the heebee jeebee's. That awful anxious feeling in my stomach, knowing the second I downloaded, I just blew a hundred bucks on a product that's going to do absolutely nothing for me. Ugh.
What I realized after a long time and many failures was, the websites and people I was reaching out to, had no interest in my success. They were only interested in my credit card.
I got frustrated, overwhelmed and ultimately, I just give up.
It wasn't until more recently that I discovered an online community of folks, who are willing to help me along the way, and that changed everything for me. I'm convinced it can help anyone who's looking to make money online, including you, and that's why I created this website. Everyday exercises to help motivate, create, and produce online success and happiness, for those seeking direction.  
I've been so lucky to find this help, I felt the need to share what I've learned along the way, with other people seeking the same as I once did. Those who are tired of the GET RICH  QUICK scams. Good folks like me, who know it takes dedication and work to create a successful online business, and are willing to commit in order to reach their potential of huge amounts of money each month. People like me, who aren't chasing the mansions, the gold plated hot tubs or private bowling alleys necessarily, but still achieving the monetary with the peace and happiness that should come along with it.
If you're interested in working along side the same people I do. The same people who have helped me create an online home business, and who showed me the exact steps to take in order to make it successful, then I urge to visit me over at my profile, and I'll show you around. I now have several websites (some yet to be published). And I'm making money online, in more than one way at a time. I'll personally help you get started. Absolutely no charge. And you'll have others there, waiting to help you as well. Nothing to lose. 
You can find my here, at  my Wealthy Affiliate profile page.
I hope to see you over there. I also hope the pages I've created here, and continue to create, will be of great help to you. If there is anything at all I can do that could help you along in your online business journey, please don't hesitate to ask! Leave a question or comment on any of the posts, and I'll be sure to reply.
Thanks for visiting my site. I wish you all the best in your online journey!
– Stephen