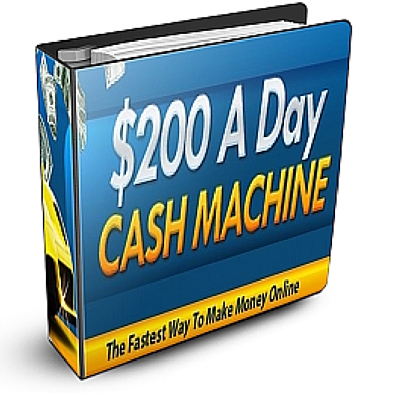 OK, guys, I gotta be honest with you. I'm sitting here on my couch sipping on tequila and having some good laughs and not so fond memories (which I'll get to later). I did some keyword research with my favorite keyword tool, to find some "work from home" opportunities that I could review. I saw a number of people searching for this program, so I decided to do a $200 a day cash machine review and see if I could find some info and more importantly, find out, what is the $200 a day cash machine about? The laughs began almost immediatel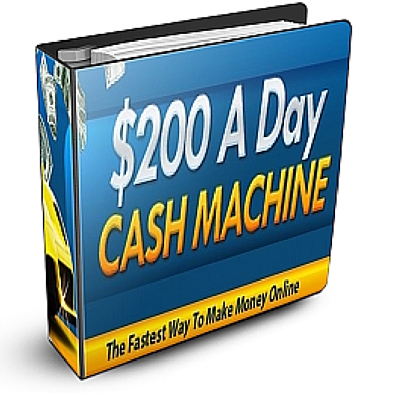 y.
Name: $200 A Day Cash Machine
Website: Too Many To List (see below)
Owner: Frank Jones
Overall Score: 3/10
Cost: $20
Recommendation:
NOT RECOMMENDED
Do I Personally Use This Product?: NO
You see, when you've learned the real way to make money online, you can spot the "fakes" right away. The "Get Rich Quick" push, screams scam! And this one screams pretty loud.
UPDATE! THE VIDEO HAS BEEN REMOVED AS IT IS BEING "REVIEWED FOR CONTENT" FROM SOME COMPETITORS WHO DON'T LIKE THIS REVIEW!! I PROMISE THIS WON'T STOP ME FROM POSTING IT. IT WILL BE UP MARCH 2016! PLEASE READ BELOW FOR MORE INFO ON THIS PRODUCT AND SOME BETTER CHOICES:
$200 A Day Cash Machine Review
First and foremost, when anyone ever claims you'll be making $200 a day and it's going to be quick and easy, that's a big Red Flag! Making a living online isn't quick or easy. It takes time and dedication. Oh, and the whole "Cash Machine" is laughable too. Why wouldn't everyone have this so-called machine? Don't you think people would have caught on to this by now if it really worked? Wouldn't all these people making $200 a day be telling friends, and those friends tell their friends and so on? I mean you have a virtual machine making you money every day right?

What Is The $200 A Day Cash Machine About?
Here's what you get for your $20. A pre-built website of the $200 Cash Machine, that sells the $200 cash machine. Wait. What?
That's right. You buy a pre-built site, and then try to have other people buy what you just bought. Is this making sense? You're not actually "selling" anything. You're scamming people into buying the same site you bought from someone else, for $20. This, my friends, is NOT a business! Oh, but it gets better….
Let's pretend in theory, this works. You have your new website. Now what? What are you going to do with this website that everyone who bought the system, also has? Do you think your site will be on page 1 of Google? Of course not! How is anyone going to find your site?? How do you get traffic to this site in order to sell it to someone else? The answer is, you don't. Or you pay for traffic. Aren't you trying to MAKE money and not spend it? This is where it starts to get really good….
This guy wants you to place classified ads in order to attract people. Hahaha! Classified ads! What is this, 1980?? Are you kidding me right now?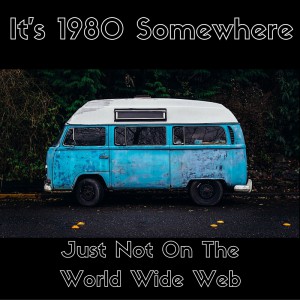 When was the last time you went to a classified ads column looking for an online business? I'm guessing very few people ever do this. And I'll also guarantee even less, search classifieds online. Did you find my site from the classifieds? No. Probably a Google search, or a video from YouTube or from a Social Media platform, but certainly not from a classified ad. Welcome to the year 2016 everyone.
OK, let's back this up a bit. Back to getting ranked on Google.
If I type into Google '$200 a day cash machine' I'll get plenty of results. And yes, they'll be on page 1 of Google as well. And page 2, 3, 4, 5, etc. That's because thousands of suckers have bought it! How in the world can you compete with thousands of people with the same exact program? Who's going to go past page 1 when there are 10 program sites to choose from right there? Nobody, that's who.
Laughs and Bad Memories
I had some good laughs reading the website, explaining how easy it's going to be for you to make all this money 'On Demand' simply by placing ads on the web.
Why bad memories? Because I was a sucker for this same type of money making scam about 15 years ago. Yeah, this type of "Buy this site and promote this product" has been around for a long time, my friends. I went through it myself, and trust me, it's completely useless. You can't just buy someone else's website which looks like 1,000 other websites and expect to make any money. It doesn't work that way.
Conclusion
It's a waste of your hard earned $20 bucks. There's NO REFUND. Say what? OK, no refund no problem, but how about a free trial of the site before I decide to buy? Nope!
There is a right way and a wrong way when creating a website which makes money. Legitimate companies like Wealthy Affiliate give you free trials to see if it's something you may be interested in. If you're not going to give me a free trial, then you better be offering me a refund if I'm happy with the product.
So, long story short, the $200 a Day Cash Machine is not worth your time or money. Stay away. Have you tried this program? What are your thoughts? Let me know in the comments below!