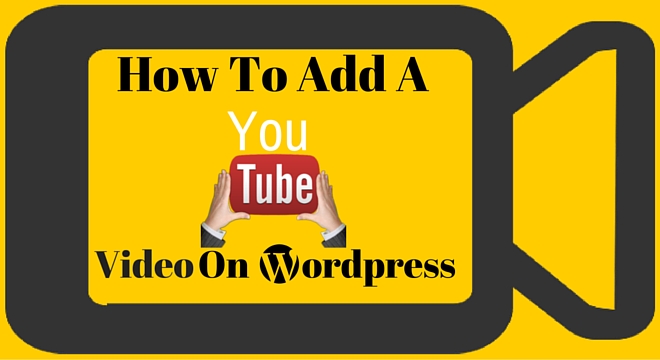 Today I'm about to walk you through the steps of one of my WordPress tutorials. And as usual, I'm keeping it simple for everyone. The video is just a short 3 minutes. And that's because of the into, outro, and all the explaining I do throughout. Adding a YouTube video is a piece of cake, and you'll be doing it in seconds, once you learn how. When learning how to add a YouTube video on WordPress, we'll need to go into that pesky "Text" area. But even when doing that, it's as easy as pie!
If one of your goals on your website is to get traffic and/or make sales, then you should know how important video is. I'll be getting into a lot more of that in my upcoming post. But be sure to know, video is the new king of the World Wide Web. In my opinion, if it hasn't already, it will soon be more important than content! Dare I say? I dare…..
Make sure you're in your Dashboard on WordPress, and ready to follow along. In the text below the video, I go a little more in depth, for those who already have content on thier page and are having trouble navigating through the Text Edit box. Let's get right to the video now though, with the simple steps, and add that YouTube video on your WordPress page or post!

How To Add A YouTube Video On WordPress
Here are the simple steps you'll need to follow in order to get a YouTube video on your WordPress page or post. We'll even navigate through the text edit box to help you find your way. Lets Go!
Step 1: Open the Page or Post on WordPress, where you want to embed the video
Now go to You Tube and find the video you want to embed.
Under the video you'll find a 'Share' icon with an arrow. Click it.
Step 2: On this screen, next to the 'Share' text, you'll see the word 'Embed'. Click it!
Step 3:  Highlight & Copy the long link provided.
Step 4: Now lets return to our WordPress site!
Go back to the Page or Post where you want your video. Assuming you already have content on the page, find the spot you want to add the YouTube video.
For this example, we want to place after the word 'pie'. But before the next paragraph, which begins with 'Make sure you're in your Dashboard'…..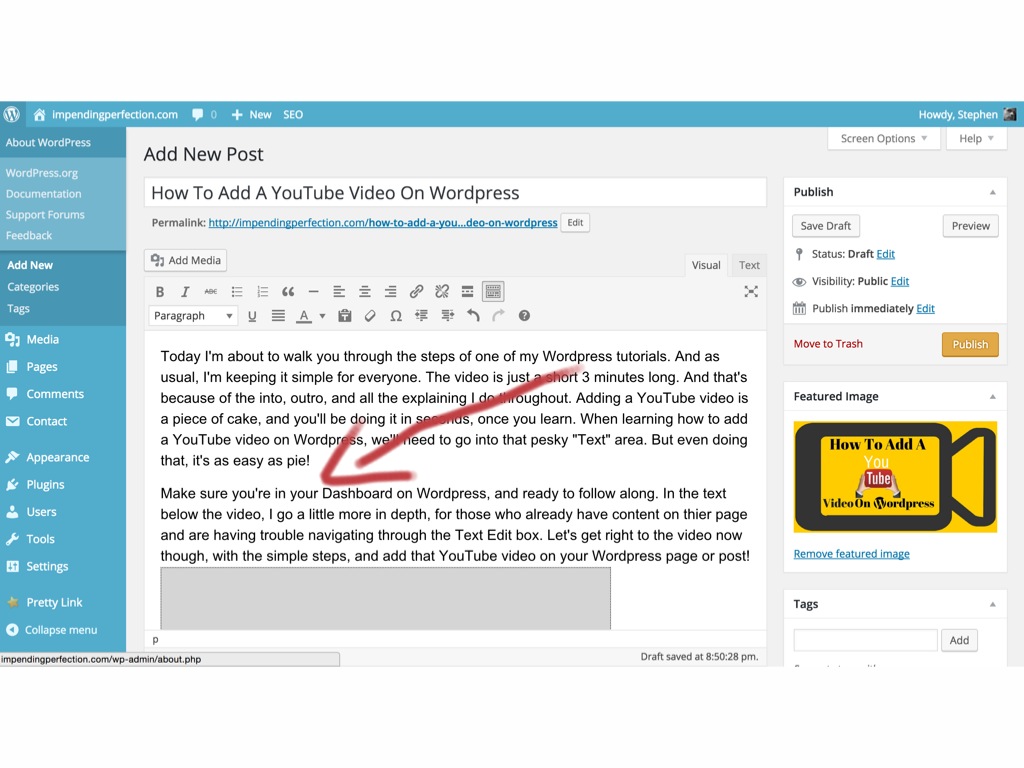 Step 5: Now that you know where you want to add a YouTube video, go to your 'text editor'.

Once inside your text editor, you'll want to look through all that jazz computer talk.
Find where you want to place the video. It was after 'pie' and before 'Make sure…'

Step 6: Paste your link there. Go back to the Visual editor and you'll see something like this.



It's a big blank gray screen. Don't panic, you've done nothing wrong 🙂 Take a look by going to the 'Preview' button on your upper right of your WordPress screen. You should see your video, in all it's shining glory! Once you publish your Page or Post, it will be visual. You just cant see it in your editor.
And that my friends, is how to add a YouTube video on WordPress!
If you found this post and video helpful, please Like, Share, or Comment! And don't forget to join my email list for updates and special announcements! Have a wonderful day!
Everything I've learned about WordPress and making money online, I've learned by using the Wealthy Affiliate Platform