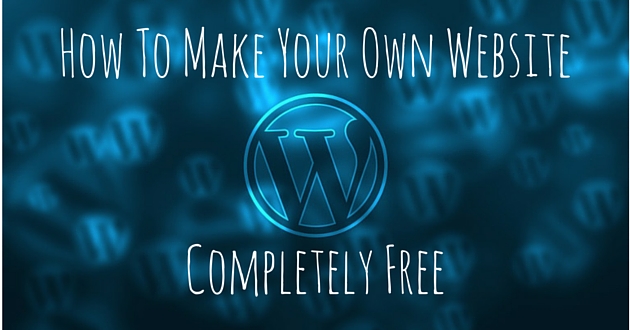 Below, I've created a very quick video tutorial, showing you exactly the steps to take for your own free website. The video is 6 minutes in length, but the steps you are going to take to create your own site, are less than 3 minutes! I't's a basic tutorial which will show you the 4 simple steps to get your site up and running in under 3 minutes. I will have subsequent videos to follow, which will detail steps to build your website, now that you've gotten your site going. But as for the video below, it will show you exactly how to make your own website completely free. Simple and straight forward.
If you're interested in starting an online business, but you're unsure on how to get started, take a look at this post, where I explain what's needed after you make your own website.
For this video tutorial we are going to be using the search box you see below. I've set it up this way, so you can do these steps along with me, as you watch the video. So by the end of the video, your site will be up and going, available for you to start writing content, posting pictures, hosting videos, or selling a product. That easy. In 3 minutes.
As I mentioned above, we will be using a .SiteRubix.Com domain name in the video tutorial, for you to get started. DON'T WORRY! YOU CAN ALWAYS BUY A .COM DOMAIN AND TRANSFER IT TO YOUR .SITERUBIX.COM WEBSITE.
This video below was created to show you how to do it completely free, So we're starting off with a free domain name (which will end with .siterubix.com) Again, no big deal if in the future you want to change your site name to a .com. You CAN do that. I do this myself, often. Sometimes I'm just not sure what name I want to call my site, so I don't want to spend money and buy a .com right away. But I'm ready to build my site now! This is why I almost ALWAYS start building my sites with a .siterubix.com first, before changing it over to a .com when I'm ready to publish it to Google.
Keep in mind, Google doesn't like unfinished sloppy sites anyway, so why would you publish it before you get it started? Start with baby steps. It will make your life a whole heck of a lot easier. That's what Impending Perfection is here to do. Make things easy. Do what I do, step by step.
We are going to be using the most popular website builder, WordPress. It's simple to use, with no experience needed. I'll have numourous videos in the coming weeks, with tips and tricks on how to use WordPress. But for now, watch this video on youtube or in another browser window, and then follow along with that search box above. You'll have your site up and running in 6 minutes from now! Ready, GO!

(By clicking here, another window will open the video) or simply watch below.

How To Make Your Own Website Completely Free
Welcome everybody. Hope you're having a good day. In this video I'm going to show you how to make a free website, completely free. Did I just say free, twice? Ha! 

If you're looking at my site, this is what we'll be working with. Scroll up to the "search looking" box above the video for SiteRubix.com. You won't have a .com (it will be .sitrubix.com) but don't worry about that, you can always get a .com later and switch your sites address over from .siterubix.com to .com. But for this demonstration, we want to do everything free.

So check out the box above, and in here I want you to input your the name of your website. In this case we're going to call it "YourWebsit". So in your case it will be, oh I don't know, ThisOldHouse.com? Oops, I mean .siterubix.com. Which again, we can change to a .com in the future. You'll see if your name is available or not, over the Build It Now button, and in our case it is. So once you have figured out your name and put it in the box, go ahead and click the "Build it Now" button.

That will bring us to the SiteRubix set up home page. And I'd like to point out something quickly while we're here. This is going  to be a WordPress site, but it will be powered through the Wealthy Affiliate platform. This is a good thing! Nothing at all will be different about your wordpress site, except that you can join a community of other like minded folks building their own sites. Watch training video's. Get support. And use tools like Keyword Searches. It's a place that any newbie can learn each step in creating a website. But with that said, you don't have to use any of that if you don't wish too. (I do daily, myself). I build all of my site using this platform. You can just host your site here, for free, and leave it at that if you choose.

So now that we've made it this far, go ahead and click the "Build My Free Website" button. That will bring us to the 4 quick steps to take to get your site up and running in less time than it takes to brew a cup of coffee.

Step 1. What Kind Of Website Do You Want To Build?

Here is where we can choose the free website, or on a Domain name we own. For this demonstration we are going to be sticking with the free version. (I will have a training video on how to transfer you own Domain to your SiteRubix site, in the coming weeks.) So click the Free Website and you'll see the name of your website displayed in the box. In our case it was yourwebsite.siterubix.com. 

Step 2. Name Your Website

Give your website a name. Usually its the same name as your Domain. So if your website name is ILoveDogs.siterubix.com, than you would name your site. "I Love Dogs." But that doesn't have to be the case in every situation. There may be a time when the name of your site doesn't match your Domain. But lets assume it does. You can always change the name of your site later. No big deal. Don't sweat the small stuff 😉

Step 3. Choose The Look Of Your Website

There are over 2,000 themes you can choose from. Here's a hint. Just pick one! Ha! It can get overwhelming, so look at a few, and pick one. Once again, you can always change the look of your site in the future. You won't be stuck with it for life if for some reason you hate it. It's your first site. And it's free. Use it as a practice site. Most people love building sites so much, they build more than one. It's like people who get tattoos. Once you get your first, you always want another and another and another. Same with websites. I myself have 6 sites at the time of this writing. I'll have 20 before I'm over it! 🙂

Step 4. I'm Ready To Build My Website Now

Now that you have everything in place, it's time to build your site. Click the big blue button and watch the magic happen. In just seconds, yes seconds, your site will be ready for you to get started with building pages, picture books, videos, selling products, or whatever it is you want to do!
Always start with free first, whether that's a website, training, or selling products. There's always a free way to do it. Which is why I'm recommending you to start off with a .siterubix domain. On the other hand, if you already have a domain or are absolutely positive you want to buy one, buy all means, do so. You can follow the video and you'll see where to put in the domain name you own. But you'll need to take it over from that point on. (I can help you further if you ask questions in the comment section below this post.) This video is for setting up a FREE website and I feel a domain name is essential to a website, so I include it in as part of the website.
I truly hope the video above has helped you in succeeding at the task at hand. If you have any questions at all about how to make your own website, completely free, please please please don't hesitate to ask in the comments below. I'm here to help you succeed. If you found the video helpful, I'd love if you'd share it on your favorite social media sites, and I thank you in advance! All the best to your online success!

Everything I've learned about building websites, I've leaned by using the Wealthy Affiliate Platform.