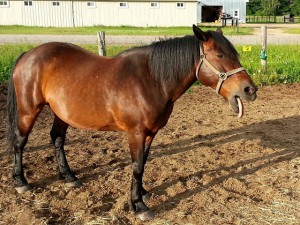 So the question I always get asked. Can affiliate marketing make money? Well sure it can. But so can horse manure as well. But I bet if you gave some random guy a bag of horse manure and told him to go make money with it, he'd look at you like you were nuts! He wouldn't know the first place to start. Affiliate marketing is no different than any other business. You can't just come along and think you're gonna become rich, simply by selling other people's products.
Notice I didn't say you can't become rich. Because you can. Very rich in fact. Many many people are doing affiliate marketing and they're making a big pile of cash every single month. Month after month.
But you can't just come along and say, "Here, buy this from me."
It takes work. But the good news is, it doesn't have to take a lot of work for a very long time.
Unlike a brick and mortar business, or a service, say, like house painting or house cleaning, internet marketing can be up and running in only a few months. Many times it becomes a profitable business in as short as 3 – 6 months time. What other business can you say that about?
For some, it will take longer. Maybe a year or so. But still, think about the rewards you could possibly be reaping, a year from today. Imagine having 2, 4, even 10 thousand dollars coming in, each and every month, a year from now. All because you put in hard work for 1 stinkin' year.
A year FLIES by. You know it and I know it.
Wait a second. Are you still stuck 3 sentences behind? The sentence where I said you could be making $10,000 a month, every month, a year from now? Sounds crazy right?
It is.
Sounds impossible, right?
It's not! (Here's proof)
Getting to $10,000 a month within your first year at internet marketing, takes a sh*t ton of dedication and hard work. Sorry for the language. But I'm just being honest here. Anyone who say's you'll be making $10,000 your first 30 days is lying to you. You'd be one in a million to do it. Anyone who say's making $10,000 a month in your first year, will be easy, is lying to you.
Don't huff and puff to me if you don't like that statement. I didn't make the rules of life.
Life takes work. To reach success in life, takes even more work.
Can affiliate marketing make money? Yes, even if you don't make it to the $10K mark your first year, as long as you put in time and effort into your business, you will see results. Would you really be upset if a year from now you had, say, $2,000 coming in every single month? I'm guessing your answer is no, you wouldn't be upset.
---
Can Affiliate Marketing Make Money?
5 ATTRIBUTES
TO AFFILIATE MARKETING
1. YOU DON'T NEED A PRODUCT OF YOUR OWN TO SELL
2. YOU DON'T NEED HIGH PRICED ITEMS TO SELL IN ORDER TO MAKE A LOT OF MONEY
3. NO INVENTORY * LEAD YOUR CUSTOMER TO THE AFFILIATE SITE, THEY DO ALL THE SELLING
4. LOW TO NO SETUP COSTS
5. OPPORTUNITY TO QUIT YOUR DAY JOB AFTER JUST 1 YEAR OF HARD WORK.
---
And here's the beauty of affiliate marketing. After you put in your hard work for 6 months to a year, you can take a break. A BIG break. You earned it. Now let the website you've worked so hard on over the past year, do all the work for you. You see, once your website starts getting a lot of traffic, it starts to work on auto pilot. I know that word is thrown around a lot when it comes to making money online. But in most cases, some "Guru" is trying to sell you on the idea that he'll give you a product right out of the box that works on Auto Pilot.
Wrong. Doesn't work that way. But what I can tell you is, that once you put the effort into your site, it will one day become an auto pilot money making website. You'll only need to visit occasionally, update some posts, freshen it up to keep it pretty, etc. Things like that. So it's not totally auto piolet I suppose. But it does become a lot less work.
Heck, once your site is making some real good money, your site itself is worth money! Yes, you can now sell your site for $5K or $100K or more! What will you build your websites worth up to? Could you imagine if Amazon wanted to sell their website?? Im guessing  a cool billion dollars or more. You think you can build a billion dollar website?
Let's not forget, when Amazon started online, they sold books. That was it. It was an online book store. Most of the younger generation won't even know this fact. I remember everyone was talking about how Amazon would kill the book store. Essentially, they have. But they've also expanded. That's another beauty of your website. Choose a very narrow niche, and then you can grow it as big as you want.
When Amazon first came on the scene, there were no other online book stores. So for Amazon, "Books" was a narrow niche. Of course today, the niche books is nowhere near narrow. It's much too broad. You'd need to narrow the book niche to something like "Classic books for kids." That's pretty narrow. Ok, lets get back to what we were talking about. Building an empire with your online business 🙂
If you continue to keep working on your site and working hard on it, even after the year mark, the potential is limitless. Truly limitless. Examples of websites that went from zero to hero would be Amazon or YouTube. The internet is limitless. The more you put into your website, the more it will give back to you.
Let's get back to your original question. Can affiliate marketing really make money?
I think you see, the answer is no doubt, a BIG FAT YES!
Questions? Comments? Please start a conversation, below!
Everything I've found, about being a successful affiliate marketer,
I found through using the Wealthy Affiliate platform.